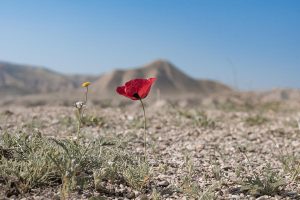 "The wilderness is a dangerous place. You only go there if you have to."
Those two key phrases are from the Godly Play Sunday School curriculum for young children. They are repeated throughout lessons about wilderness in our scripture – and there are many. Students hear these words as their little fingers feel sand and the teacher describes a fierce, barren land with wild animals and little respite. Biblical heroes hide in the wilderness, the people of Israel wander the wilderness, and today the Spirit drives Jesus into the wilderness.
"The wilderness is a dangerous place. You only go there if you have to."
Floods are dangerous, too. You only ride one out if you have to. They are a wilderness all their own. Endless stretches of water, without a drop to drink. Rolling waters eating up everything in their path give way to fetid stagnancy in the aftermath of the storm. In Noah's case, his wilderness was endless days floating on a sea that never subsided, sleeping with wet animals, coming to grips with the task of beginning the world again, wondering if God remembered him.
Because God might forget, right? After all, God regretted creating all of humankind, regretted creating the beasts and the birds and the little crawling things. God was grieved by his creation and the violence they did to each other. Hence the flood. Hence the wiping clean of the earth. God might forget, in his regret, that a tiny boat carrying the remnants of his botched creation needs to find a safe port, a place to land, a place to come ashore.
"The wilderness is a dangerous place. You only go there if you have to."
Jesus had to. The Spirit drove him to the wilderness. The verb "drove" is the same one used for casting out demons. Just two verses before the Spirit rips open the sky, descends on Jesus, and a disembodied voice calls out from heaven: "You are my Son, the Beloved; with you I am well pleased." Then the exact same Spirit that descends on Jesus casts him into a dangerous, desolate place for forty days. It makes one wonder what would have happened if the voice had been displeased.
Jesus wasn't alone. Wild beasts prowled about him. Satan tempted him. Angels attended him. And that's all Mark says. We don't get the down-low on the temptation like we do in the gospels of Matthew and Luke. It's tempting to fill in the blanks here with those details because Jesus clearly defeats Satan in Matthew and Luke. Jesus tells him off. Then angels come as a reward. Mark does not give us a hero's story. In Mark, survival is enough.
Because, "The wilderness is a dangerous place. You only go there if you have to."
All of us go through the wilderness. Whether our wilderness is one of devastation or one temptation, whether it's forty days and forty nights, or months, or years – all of us at some point in our lives find ourselves cast into a far-away land with an unfamiliar landscape and no discernible direction.
For some of us it is the loss of a job or a spouse or a child and there's no escaping the grief. It threatens to drown us and we wonder how we stay afloat in our tiny crafts, going through the daily ministrations of life. For others it's addiction or chronic disease or mental illness, and we live in a different space than the rest of the world, always aware of the temptation to give in and give up. And for others of us still, it's the desolate land of a promise unfulfilled and potential left untouched. That wilderness is a wasteland of desperate wanting as the beasts of regret and bitterness threaten to tear us apart.
If God was so pleased with us at our creation, if God claimed us for his own, then why are we cast into this wilderness? And the bigger question is – will God remember we are here?
Hear the good news: God remembered Noah and the beasts and the birds and the little crawling things tossed about in a flimsy craft with only cedar wood and pitch between them and the deep. God remembered Jesus in the wilderness and sent angels to minister to him.
The Noahatic Covenant is one of remembering – remembering not just humans but also beasts and birds and little crawling things. The covenant is with all living things. It's a promise to the entire earth of never again. God's violent act in the flood does not wipe out violence on this earth. So God tries a different tact in this covenant. The bow of many colors we see in the clouds isn't just to reminds us of this promise, it is also to remind God that no matter how bad it gets – and it does get bad – God will not act in this way again.
We made a promise after Columbine, after Virginia Tech, after Sandy Hook – that this wouldn't happen again. We made a promise to our children and to our children's children. We said never again. And here we are not two full months into 2018 and there have been seven gun attacks on school grounds during school hours since the first of the year, including the one this past week at Marjory Stoneman Douglas High School in Parkland, Florida where a nineteen-year-old boy killed seventeen people and injured fourteen others. What will it take for us to remember our promise?
Consider the wilderness those parents have been cast into – the families and friends. How do students go back to a place where wild beasts roam the hallways with semiautomatic weapons and shoot children at random? There is a strong temptation in this wilderness to say that nothing can be done, that this is our new normal. I submit to you that the United States is the number one country for mass shootings in the world. What we are doing is not working. We must try a different tact. Our prayers and sympathies are not enough. We made a promise.
I know we are a violent people, prone to violent acts. I also know there were angels in that school last Wednesday – teachers shielding students, friends and enemies comforting each other, police and other rescue workers delivering the living to safety and the dead to their loved ones. Fred Rogers said, "When I was a boy and I would see scary things in the news, my mother would say to me, 'Look for the helpers. You will always find people who are helping.'" Those helpers are angels – every one.
"The wilderness is a dangerous place. You only go there if you have to."
As the church, we claim the call of God on our lives. Baptism, the passing through of water, is a mark on our souls that we are God's own. It is an imprint that our identity isn't just the violence and pain we create on a daily basis. Our identity lies not just with who we are as flawed humans, but with whose we are. We are beloved. We are children of the living God. But baptism is only the beginning of that claim.
The water marks us, but it's the wilderness that shapes us and gives meaning to our identity as children of God. Do I believe God brings pain into our lives to toughen us up? No, I don't. Do I believe God causes mass disaster so we can be a better people? No, I don't. Do I believe we should jump into a nearby wilderness so we can learn something? No, I don't.   Remember, "The wilderness is a dangerous place. You only go there if you have to."
However, no matter how hard we try to avoid it, we all land in the wilderness at some point in our lives. We all find ourselves up to our necks, treading hot water somewhere down the line. Whether it's our own doing or someone else's, it doesn't matter. It stinks. It's hard. And it's lonely. We aren't always the hero in the wilderness. Just surviving can take all our energy.
Here's what I do believe: We may be lonely, but we are not alone. Emmanuel: God is with us. God remembers us. And God can use the mess we are in to shape us into the people we need to become – into God's own. The wilderness offers us clarity and focus. It offers us the opportunity to face our fears and make friends with our failings. It offers us the unvarnished vision of our true selves, warts and all. And then the voice says you are my beloved.
"The wilderness is a dangerous place. You only go there if you have to."
The path to resurrection is always through the wilderness. If you go there, when you go there, God always goes with you.
The prophet Isaiah says in chapter forty-three:
Thus says the Lord,
who makes a way in the sea,
a path in the mighty waters,
who brings out chariot and horse,
army and warrior; they lie down, they cannot rise,
they are extinguished, quenched like a wick:
Do not remember the former things,
or consider the things of old.
I am about to do a new thing;
now it springs forth, do you not perceive it?
I will make a way in the wilderness
and rivers in the desert.
The wild animals will honour me,
the jackals and the ostriches;
for I give water in the wilderness,
rivers in the desert, to give drink to my chosen people,
the people whom I formed for myself
so that they might declare my praise.
The God of the flood is the God of the wilderness, as well. God brings the flood to the wilderness and leaves it green and flowing and filled with new life. This, my friends, is resurrection.
Sermon on Genesis 9:8-17 and Mark 1:9-15, preached at the Hermitage.