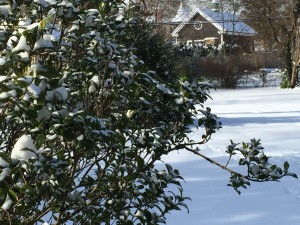 In Richmond, snow is white magic, enchanting us to act in strange and beautiful ways.
Democrats and Republicans, stand shoulder to shoulder, smiling as they peer out of 10th floor windows watching white petals turn dirty streets into Currier and Ives lithographs. Strangers strike up conversations as they wait in grocery lines, eight carts deep, creating an instant community of snow-intoxication. Curmudgeons and children alike, stand at doorways, surveying backyards transformed from tired brown grass and dead flower stalks into white linen canvases, touched with pastel blues and pinks, glittering with icy diamonds from a cold sun. And nearly everyone breathes the clean, crisp air of Snow Sabbath.
Richmonders are well aware that folks from Pennsylvania, Massachusetts, New Hampshire and other points north mock us.  They laugh at our weather ignorance.  Facebook and Twitter posts deride our driving skills once the white stuff touches the roads.  North of Fredericksburg, tough-hided Virginians brag that work does not stop for snow – nor does school or church or committee meetings.
Judge us all you like.  We'll take that into consideration, as we snuggle into a good book.
Those of us from RVA see the snow for what it is – a gloriously beautiful, unexpected holiday created for rest and recreation. Young and old alike hold their the right to a snow day for no other reason than because this miracle came our way.  Our excitement over a snow holiday does not make us lazy, good-for-nothings who take advantage of our less-than-stellar snow removal efforts.  It remakes us and revives us.
A Snow Sabbath is a trust in ourselves and in nature that taking a day off will not cause the world to crumble.  The sky provides a white blanket under which families can curl up and reconnect with each other.  Neighbors come out of winter hibernation.  We gather in each others yards to relive tales of snow bravery and ice-capades.  By taking this Sabbath, we know ourselves, not just for what we do 9-5, five days a week.  We know ourselves for who we are, most especially on snow days.
Because snow-packed roads linger in our city, we can't go anywhere.  This inconvenience frees us to do something rare:  We play.
Sledders and snow angels dance among us, where lawyers and bankers once jogged.  We discover a cure for our rushed and rapid lives in the delighted shrieks of neighborhood children throwing snow down each others necks, in strolling beneath the orange-pink sky brightened by sodium-vapor lamps dotting our street, and in the hushed solitude of a side porch muffled  with the sounds of snow falling.  Our city finds a piece of shared redemption, plunged in a baptismal cottony fluff.  Born again, we re-emerge, red-cheeked and frozen-toed, to warm ourselves with hot cocoa, fuzzy slippers, and a roaring fire.
Rather than stubbornly fight it, Richmond chooses to pause for beauty that we in no way can create or avoid.  It is a high and holy tradition, in a city built  upon traditions – a practice we hold onto because it is an efficacious balm for the tired and the cynical and the children in us all.   Snow Sabbath returns us to our everyday lives lighter and fresher than we were before the sky fell lightly upon us.  It makes us young again, excited for the day, willing to take risks, re-engaged with our world and with each other.
You may condescend to our silliness, our giddiness, and our quickness to take this break.  You may think us indulgent and frivolous and gutless.  You may believe us fools.
There is a Japanese saying:  "We're fools whether we dance or not, so we might as well dance."
I'll do my dancing in the snow.